Returning to work!
It seems we might be getting back to things – see our most recent project here
Such excitement!
On Fri 10 July 2020, Lydbrook Primary School had a visit from HRH the Princess Royal who was there to see all the great work the school has done in teaching students about their Forest home – from newts to literature! One student read a piece from the anthology Dean Scribblers produced with Hawks Class, and HRH was given a copy as a gift to read at her leisure. We were there to help them celebrate!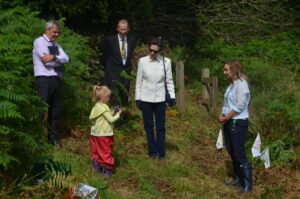 This is our favourite photo, and there are several others here.
More great news!
Teacher Howard Eason from Heart of the Forest School forwarded us an email recently with the fantastic news that the school's entry 'Wild About Wildlife' was Highly Commended in the Totally Creative category for schools in Wales and western England in the Better Energy School Awards 2020. With 28,750 entries this is no mean achievement. The students have won £100 for the school. Dean Scribblers is thrilled to have been a part of the students' exploration of wildlife here in the Forest of Dean and we add our own hearty congratulations to Howard and his students.
We have also learned that three of the students won prizes for their work in the local Mitcheldean Poets and Young Storytellers competition.
In the Young Poets Competition Demus Barton won 2nd prize in the 12 and over age group for his poem 'Pipistrelle' and Jadelynn Ansom was commended for her poem 'Long-eared bat'. And in the Young Storytellers Competition Shakira Stevens won 3rd Prize for her story 'The Naughty Bat'. These and stories and poems written by the class are being published in an anthology to give to each student as a memento of the work they did with us, foreshortened as it was.
Well done to everyone!